High quality, in house switchboard & sheet metal manufacturing
JPR has an in-house switchboard and sheet metal manufacturing department, supplying a wide range of modular and custom built Low Voltage switchboards.
These include motor control centres and power switchboards as well as distribution switchboards and control panels for industrial and commercial applications.
Quality controlled, cost efficient, fast turnaround
Our engineering and design team has a full CAM/CAD system; and their close liaison with installation staff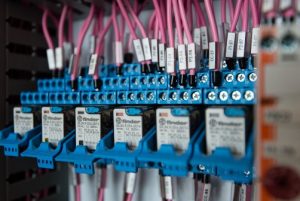 provides a controlled, efficient interfacing between field requirements and operational functions. Control over the whole design allows us to guarantee delivery schedules and meet urgent switchboard deliveries.
Switchboards include:
Demcon MKIIA motor control centre incorporating demountable plug in or fixed type modules
Drawcon motor control centre with fully withdrawable modules
Flexicon style modular switchboard construction for large main power distribution switchboards
Custom built
Demcon and Flexicon Switchboards incorporate:
Limited and unlimited Arc Fault Containment
Short Circuit Levels up to 80KA for 1 sec and 50KA for 3 secs
Form 4 segregation
Designs compliantto AS/NZS
Our accreditations:
NATA accredited 'Type Test' certificates for high fault and arc containment switchboards
Type 1 IP56 NATA certification to AS60529
Sheet metal manufacturing
Our fully equipped sheet metal workshop has state of the art machinery such as electronic backstop guillotine, CNC turret punch, CNC press brake, Mig and Tig welders. We produce high quality guarding, ductwork, tanks, toolboxes and general sheet metal.
High quality, latest machinery, skilled staff
With quality assurance systems, latest machinery and skilled staff, we are trusted to supply a broad range of stainless steel, aluminium and mild steel items to many customers in the food processing and manufacturing industries.
Our experience includes:
Stainless steel brackets
Stainless steel and aluminium trays
Stainless steel trolleys
Stainless steel chutes
Need more information on our switchboard and sheet metal manufacturing?
Call  07 3271 2911