Helping create the networks of tomorrow
JPR was established in 1958 as an Australian owned and operated family business providing services in the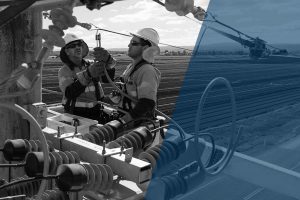 electrical and mechanical contracting field.
Today, JPR is one of the most respected Electrical Contracting and Engineering firms. Backed by parent company Vinci Energies, one of the world's largest construction companies, JPR employees now have the chance to work in a company with a strong local heritage, but also one offering a platform of global technology and innovation.
Opportunity
JPR employees work in a dynamic, challenging environment focused on the future. Vinci Energies' platform of digital transformation and energy transition, enables us to work in exciting and emerging sectors such as Renewables and Smart Cities – providing our employees a chance to work on the networks of the future.
Our employees go above and beyond….so do we
Our history and people reflect the strength of the company. We believe in setting our employees up for success by providing optimal working conditions, support, development opportunities, and direction.
Our reputation is for delivering consistently high-quality work in a safe environment in which performance is recognised and rewarded.
Interested in joining JPR?
P: 07 3271 2911
Current Vacancies
Currently, there are no positions being advertised.
Apprentice & Graduate Opportunities
Attracting and developing talent is one of our top priorities.
JPR  works with schools to promote a career in the trades; and with universities to promote our graduate opportunities and to identify talented people.
Over 60 years, we have maintained a strong commitment to apprentice development and training. We have trained  more than 700 apprentices in the electrical, mechanical, vehicle and sheet metal trades in this time.
Our apprentices have the opportunity to train across our various departments, resulting in highly skilled employees with broad knowledge and skill sets.
We'd love to discuss your project
Benefit from local experience + global innovation